Prarthana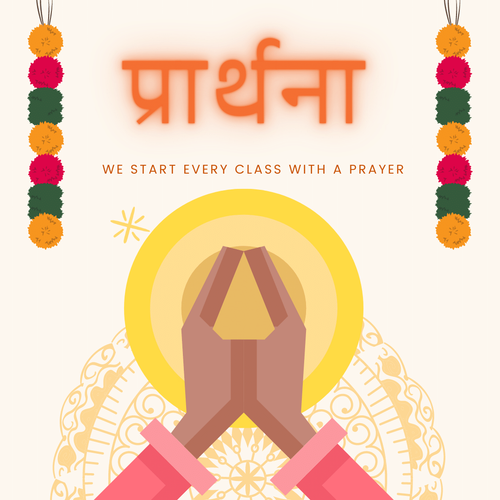 Every HindiUSA class starts with a prayer!
Download a printable copy of the Prarthana here
धन्य धन्य हो ईश्वर प्यारे,
हम बालक नादान तुम्हारे।
तुमने ही संसार बनाया,
फल फूलों से इसे सजाया।
सूरज चाँद बनाए तारे,
हमें उजाला देते सारे।
हम सब आए शरण तुम्हारी,
भगवन सुन लो विनय हमारी।
ढ़ लिख कर गुणवान बनें हम,
भारत माँ की शान बनें हम।
दीनों के दुःख हरते जाएँ,
अच्छे पथ पर बढ़ते जाएँ।
Transliteration
Dhanya dhanya ho Esshwar pyare,
Hum baalak naadaan tumhaare.
Tumne hee sansaar banaayaa,
Phal phulon se ise sajaayaa.
Sooraj chand banaye taare,
Hame ujaalaa dete saare.
Hum sub aaye sharan tumhaaree,
Bhagvan sun lo vinay humaaree.
Padh-likh kar gunavaan bane hum,
Bhaarat maan kee shaan bane hum.
Deeno ke dukh harte jaaye,
achchhe path par badhte jaaye.